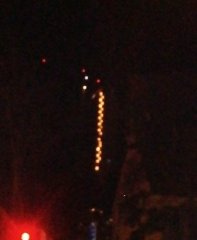 This is what I was photographing on my way home when it happened. It is the DC Twin Towers in the process of being built. Every day at work the first thing I do is go to the window and take a photo of the growing DC Twin Towers. Since I have quite a collection of photos from my office, I have taken a few from other angles and on the way back to the Underground after doing some aqua aerobics, I stopped at the traffic light to take a shot in the dark.
Then we walked up the ramp, I said I felt dizzy and we sat down on the wall. I don't remember what happened after that. Susan says I told her this happens to me sometimes. Then she reckons I had a TIA. She walked me to Gate One and asked the guards to call an ambulance for me. I do remember vaguely being in the ambulance. I also remember being in the Emergency Department of the Hospital. I also remember that Josef came and that Susan went. The fact that a time period of about eight hours passed without my knowing what had happened was then termed TGA.
So now I am back home and processing the experience of the last two weeks.
For two weeks I had a room with a view to a playground and garden. As is my practice, I took photos from the window and here they are.
The unusually cold weather this year has been cause for endless discussion and complaint. We too thought this might be the last snow we see this winter.
But then it snowed again and "Winter returned" as they say here in Austria.
Donau Spital, SMZO, 2013-03-28, 2013-04-03
This photo was taken from my office on the morning of my incident 2013-03-19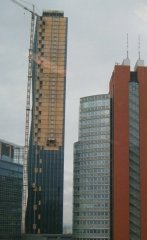 DC Twin Towers
The walls are being replaced by windows. There are a number of lifts working their way up the building.